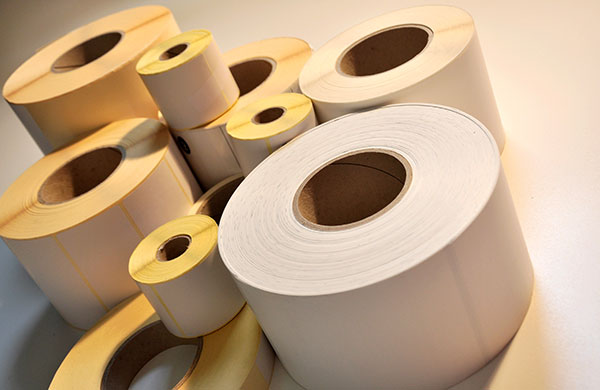 Interfas offers permanent or removable, synthetic or paper (made of vellum or cardboard) adhesive labels. Your labelling specialist works with every adhesive masses, including the most complex ones, to guarantee an efficient gluing on any hard (wood, concrete, metals) or delicate surface (glass).
Do not hesitate to visit our "Our products" page, where you'll find out more about our in stock labels, but also everything you need to know if you want us to make tailored labels (type of glue, material, colour, etc.). We also make lasting adhesive labels composed of strong materials such as PVC, polyester, polypropylene or polyethylene.
Self-adhesive labels
Do you want a permanent adhesive label for a specific product?
Interfas offers many references that guarantee a unique and efficient gluing on any kind of product. Work on the adhesive mass, on the matter and on the ink chemistry: everything is executed to ensure an efficient permanent label, even in challenging environments (humidity, cold, dust).
Removable labels
These self-adhesive labels are the answer to many functionalities such as the identification and the traceability of your products.
They play a major role in the quality of your products. Interfas created different applications to facilitate your daily work. These time-saving labels can be removed easily. Furthermore, they don't leave any trace of glue on glass. Interfas is part of Glassalia, the association of glass products transformers.
Labels that can be repositioned
Interfas produces labels with specific cuts too. For instance, removable adhesive bands can multiply the functionalities of your label.
Extreme gluing labels
Some products may seem impossible to label, but Interfas has the solution! Our engineers have developed technical labels then ensure an effective gluing in outdoor storage on surfaces such as rusty metal, sandy concrete, rough lumber…
A full set of presentations (roll, fan-fold or sheet) to provide a solution entirely adapted to your requirements, this is what Interfas offers!
Do not hesitate to tell us what you need!