Interfas can offer you unfailing solutions for each and every one of your needs and works with all polymer materials: polyester labels, polyethylene labels, polypropylene labels, PVC labels. Innovation is one of our priorities so that we can provide you specific materials for you industry: for example, we recently created magnetic labels very useful for logistics.
Here at Interfas, you will find the largest range of synthetic labels which guarantee proven durability.
Visit the "Our products" page to find out more about our in stock labels, but also everything you need to know if you want us to make tailored labels (type of glue, format, colour, etc.).
You can also discover different applications that are specific to your industry in the "Your industry" page.
Polyethylene labels
Polyethylene labels are very common; they are resistant to bad weather, to UV rays, to grease and to detergent. This material is perfect for outdoor storage labels or even for labels in hostile environments. Besides, some polyethylene labels can be stronger than others: some can be completely tear-proof for example. And of course, because we care about the environment, polyethylene labels can be recycled!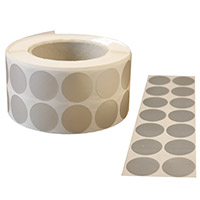 Polypropylene labels
A polypropylene material is usually used when the environment is harsh and the labels must be strong. It will resist chemical products, abrasion and dirt and it will still be affordable.
Thus, it is particularly recommended for chemistry industry and any other industry where products are stored outdoor.
Polyester labels
Polyester labels are often used for long-term labelling. By editing barcodes, datamatrix or QR codes on them, they become an excellent tool to trace a product for its life cycle. These adhesives are extreme temperature-proof. This long-lasting material can either be transparent, white, coloured, VOID or metallised. These labels can also be protected by a transparent adhesive to be even stronger against abrasion. Ask for a quote!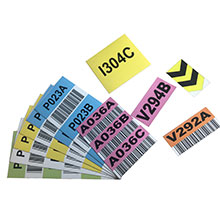 PVC labels
PVC labels are known for being rigid. Since they can be adapted to any business sector, you can use them to classify, qualify and identify any type of goods. Our wide and attractive range of colours makes these labels a visual cue.