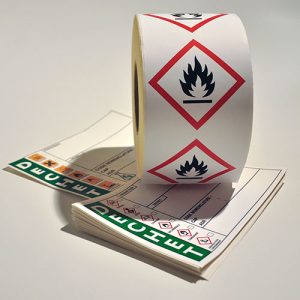 GHS labels
Acronym for Globally Harmonized System, GHS labels find their place in the new classification and labelling system for chemical and/or dangerous products. Their purpose is to homogenise the identification of chemical materials worldwide in order to avoid any misunderstanding and reinforce your security. Interfas offers a whole range or labels that present every of the 9 GHS symbols to prevent from danger (toxic, inflammable or explosive materials).
Variable data labels
Interfas edits your labels' variable data on any kind of material for you, for a better service: text, barcodes, pictures or logos…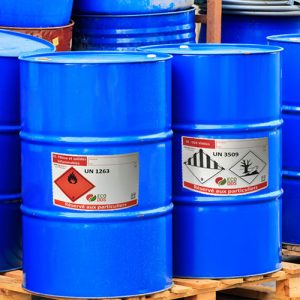 Barrel labels
These labels are used to reliably identify contents. Here at Interfas, this kind of label can be found in very large formats. Several types of adhesives and prints, inks that perfectly meet your needs, strong resistance to chemical products and long-term outdoor storage are also available. This rare product offers high reactivity to your operators and is also available for laser and thermal transfer prints. Ask for a quote!
Labels for production follow-up
These labels enable the monitoring of the product internally.  These very functional labels, composed of 2 parts, facilitate the identification of your goods and their follow-up until shipment of finished products. The adhesive mass that is used guarantees high-performance gluing and offers the great advantage of leaving no mark.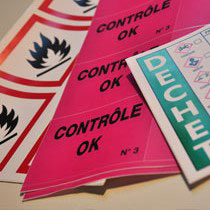 Outdoor storage labels
This label enables the identification of chemical products when inside barrels and is especially designed for long-term outdoor storage. These labels are resistant to chemical products, water and UV rays. Moreover, they are recyclable with PE or PP. Every effort is made to ensure the product's strength.
Do you need high-performance gluing or removable labels for your products? Does your work require outdoor storage? Discover our adapted industrial label range!