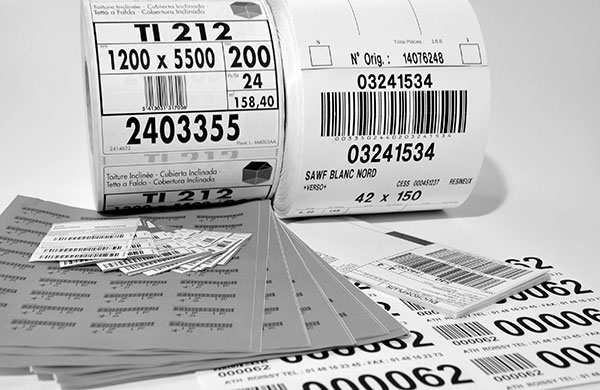 If you want to edit your labels yourself, we will guide you and help you find the label that will perfectly match your printer.
However, if you need a printer or ribbons, do not hesistate to reach us for advice. We have what you need.
You should visit our page "Ribbons and printers" for more information. You can also find our wide range of blank labels in the "Our products" page, in the blank labels section.
Laser
Do you own a laser or an ink jet printer, or a photocopier?
Interfas will be able to find the label that will meet your needs, whether it is coloured laser labels, polyester labels or simple label sheets!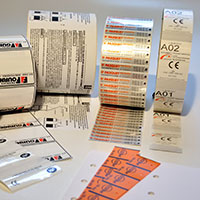 Thermal transfer
We make these long-lasting labels thanks to the use of a thermal transfer ribbon, which make them bad weather proof and perfect for outdoor storage or for treatment agent baths. We can offer you pre-printed thermal labels with your logo on it than to a quality four-coloured print. If you need a ribbon, don't hesitate to visit our page on ribbons or to ask us for it!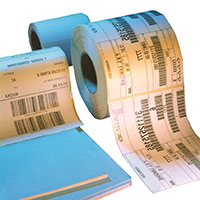 Direct thermal
With the direct thermal printing process, it's the paper that reacts! This means you only need a thermal printer (which you can find on the page "Ribbons and printers") and a spool.
The direct thermal system is the perfect choice for logistics labels or for weight/price labels and will facilitate everything.
Interfas can make it for you
A turn-key service on any type of print! Interfas can make all sorts of variable data for a document, a form ready-to-use: pictures and logos, numbers, texts, details, barcodes or Datamatrix.
We receive your files and treat them with reactivity and flexibility. Interfas offers a convenient solution to you and will save you both time and money: there is no computer setting-up to be done from you, no editing time nor dedicated staff!
Interfas will answer all your problems with great flexibility: small quantities, punctual needs, new prints, and multiple series. The specialist in labeling solutions will help you with a custom-made service, from conceiving to making the best four-coloured prints.
Interfas a souhaité vous éviter la mise en œuvre lourde et coûteuse (notamment l'investissement dans l'équipement d'imprimantes et dans la formation) en vous proposant, selon votre demande, l'édition numérique de texte ou toute autre donnée variable : Datamatrix, code-barres, numéros incrémentés ou décrementés. A votre disposition, une large gamme de supports pour de petites ou de grandes séries !